Drive
total: 10

Brigada
total: 9

Fast Five
total: 23

Tres metros sobre el cielo
total: 15
Jaws Soundtrack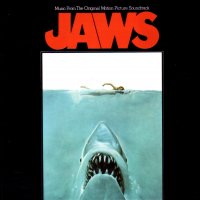 Best review is still not choosen. Your's can become the BEST! Be the first... Write review
Tracklist. Online preview
#
John Williams — Jaws
Length
1.
Main Title
John Williams
1:08
2.
The First Victim
John Williams
1:39
3.
The Empty Raft
John Williams
1:18
4.
The Pier Incident
John Williams
2:22
5.
Father and Son
John Williams
2:30
6.
The Alimentary Canal
John Williams
2:05
7.
Ben Gardner's Boat
John Williams
3:24
8.
Montage
John Williams
1:33
9.
A Tug on the Line
John Williams
2:13
10.
Into the Estuary
John Williams
2:51
11.
Out to Sea
John Williams
0:57
12.
Man Against Beast
John Williams
5:19
13.
Quint's Tale
John Williams
2:32
14.
Brody Panics
John Williams
1:14
15.
Barrel Off Starboard
John Williams
1:39
16.
The Great Chase
John Williams
3:04
17.
Three Barrels Under
John Williams
2:07
18.
From Bad to Worse
John Williams
0:56
19.
Quint Thinks It Over
John Williams
1:12
20.
The Shark Cage Fuge
John Williams
2:03
21.
The Shark Approaches
John Williams
0:44
22.
The Shark Hits the Cage
John Williams
1:47
23.
Quint Meets His End
John Williams
1:12
24.
Blown to Bits
John Williams
3:13
25.
End Title
John Williams
1:56
50:58
Plot summary
Won three Oscars in 1976. One of it:
— Best Music, Original Score, John Williams.

Martin Brody is the new police chief of Amity, an island resort town somewhere in New England. He has a wife named Ellen, and two sons named Michael and Sean. On a Summer morning, Brody is called to the beach, where the mangled body of Summer vacationer Chrissie Watkins has washed ashore. The medical examiner tells Brody that it could have been a shark that killed Watkins. Mayor Larry Vaughn, who is desperate to not lose the money that will be brought in by 4th of July tourists, wants Brody to say Watkins's death was caused by a motorboat propeller instead of a shark, because the thought of a shark in Amity's waters would drive tourists away from Amity. It looks like Vaughn is a mayor who puts money ahead of people's lives. Shark expert Matt Hooper believes Watkins was killed by a shark. Hooper is proven right a few days later, when Alex Kintner is killed by the shark that killed Watkins. Looking for the quickest solution, Vaughn tells all of the local fishermen to let him know if they see the shark. A shark hunter named Quint offers to find the shark and kill it, but Vaughn thinks Quint's price of $10,000 is too high. When a tiger shark is killed and hauled in by a couple of boaters, Vaughn hastily says that the shark crisis is over, but Hooper says the shark that's been killing people a huge great white shark is still in Amity's waters, but Vaughn leaves the beaches opened because all he cares about is the 4th of July tourist money. On the 4th of July, Vaughn encourages people to swim at the beach, and Hooper is proven right again when the shark kills a man, biting the man's leg off. Michael, who was in the water at the time of the attack, is taken to the hospital, where he's treated for shock after watching the shark kill the guy. Brody asks Vaughn to hire Quint to find the shark. Because his own kids were at that beach too, Vaughn agrees to hire Quint to find the shark. Quint, Hooper, and Brody are sent out to sea in Quint's boat, the Orca, ready to do whatever it takes to find the shark.
Comments