Drive
total: 10

Brigada
total: 9

Fast Five
total: 23

Tres metros sobre el cielo
total: 15
The Sandpiper Soundtrack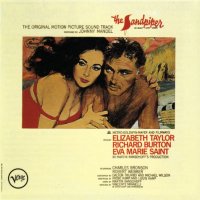 Original Motion Picture Soundtrack / OST

By:
Johnny Mandel
Release date:
23.04.1965
Length:
42:02 (11 tracks)
Best review is still not choosen. Your's can become the BEST! Be the first... Write review
Tracklist. Online preview
#
Johnny Mandel — The Sandpiper
Length
1.
The Shadow of Your Smile
Johnny Mandel & Paul Francis Webster
1:57
2.
Main Title
Johnny Mandel
4:18
3.
Desire
Johnny Mandel
2:30
4.
Seduction
Johnny Mandel
5:02
5.
San Simeon
Johnny Mandel
4:18
6.
Weekend Montage
Johnny Mandel
4:31
7.
Baby Sandpiper
Johnny Mandel
3:53
8.
Art Gallery
Johnny Mandel
5:38
9.
End Title
Johnny Mandel
2:38
10.
Bird Bath
Johnny Mandel
2:18
11.
Weekend Montage (Unedited Version)
Johnny Mandel
4:59
42:02
Plot summary
Winner of Oscar'1966 in nomination:
Best Music, Original Song, Johnny Mandel (music), Paul Francis Webster (lyrics), for the song "The Shadow of Your Smile".

Young Danny Reynolds and his mother Laura (Elizabeth Taylor) live an idyllic life near California's Big Sur. Laura teaches Danny at home. After Danny shoots a deer, authorities take the boy away to live and study in a parochial orphanage/school. The unwed mother is distraught. At first, the school administrator, Episcopalian Priest Dr. Hewitt (Richard Burton), finds the free-spirited Laura to be morally bereft and without redeeming value. Eventually, Laura and Dr. Hewitt fall in love and begin an illicit affair.
Comments