Drive
total: 10

Brigada
total: 9

Fast Five
total: 23

Tres metros sobre el cielo
total: 15
Les parapluies de Cherbourg Soundtrack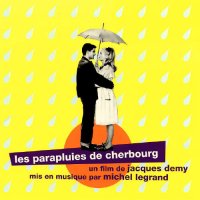 Original Motion Picture Soundtrack / OST

By:
Michel Legrand
Release date:
16.12.1964
Bitrate:
~320 kbps
Length:
60:57 (19 tracks)
Size:
139.86 MB
Best review is still not choosen. Your's can become the BEST! Be the first... Write review
Tracklist. Online preview
Put online player to your blog, website or forum.
#
Michel Legrand — Les parapluies de Cherbourg
Length

preview

Bitrate
Size
1.
Scene du Garage
Michel Legrand
2:42

need Flash

320
6.21
2.
Devant le Magasin
Michel Legrand
1:44

need Flash

320
3.97
3.
Tante Elise
Michel Legrand
2:35

need Flash

320
5.93
4.
Sur le Quai
Michel Legrand
1:56

need Flash

320
4.45
5.
Dans le Magasin de parapluies
Michel Legrand
5:25

need Flash

320
12.41
6.
Chez Dubourg, le Joaillier
Michel Legrand
4:03

need Flash

320
9.30
7.
Dou Genevieve Guy
Michel Legrand
4:57

need Flash

320
11.32
8.
Chez Elise
Michel Legrand
1:47

need Flash

320
4.09
9.
La Gare
Michel Legrand
2:22

need Flash

320
5.42
10.
Dans le Magasin
Michel Legrand
4:45

need Flash

320
10.90
11.
Le Diner
Michel Legrand
4:31

need Flash

320
10.37
12.
Recit de Cassard
Michel Legrand
3:13

need Flash

320
7.37
13.
La Lettre de Guy
Michel Legrand
1:15

need Flash

320
2.88
14.
Le Mariage
Michel Legrand
2:27

need Flash

320
5.61
15.
Le Garage Dispute
Michel Legrand
1:46

need Flash

320
4.04
16.
La Boite a Matelots
Michel Legrand
3:11

need Flash

320
7.31
17.
Duo Guy-Madeleine
Michel Legrand
2:09

need Flash

320
4.95
18.
La Terrasse du Cafe
Michel Legrand
3:09

need Flash

320
7.21
19.
La Station-Service
Michel Legrand
7:00

need Flash

320
16.05
60:57
139.86
Plot summary
Geneviève, 17, lives with her widowed mother, who owns an umbrella shop in Cherbourg. She and Guy, a twenty-year-old auto mechanic, are secretly in love and want to marry, but when she reveals this to her mother, her mother objects on the grounds that Geneviève is too young and Guy is not mature or well-established enough, particularly since he has not yet done his required military service. Shortly after this, Guy is drafted to serve in the war in Algeria. Before he leaves, he and Geneviève consummate their love for each other, which results in her becoming pregnant. While Guy is away they drift apart, and Geneviève, strongly encouraged by her mother, accepts a marriage proposal from a well-to-do gem dealer named Roland Cassard, who has fallen in love with her at first sight and has promised to bring up her child as his own. (The character of Cassard is continued from Demy's earlier film [i]Lola[/i] (1961).) Guy is wounded and is discharged before his two-year term is up, but when he returns to Cherbourg Geneviève has already married and moved away. He struggles with depression and anger, but eventually is healed by falling in love with and marrying Madeleine, a young woman who had been caring for his now-deceased aunt Élise. Using an inheritance from his aunt, Guy fulfills his ambition of opening a service station. Years later, the now conspicuously wealthy Geneviève, traveling with her daughter, Guy's child, accidentally meet Guy at his service station. While the two have only a brief conversation about the state of their respective lives, the conversation is clearly fraught with unspoken fondness and regret.
Comments