Drive
total: 10

Brigada
total: 9

Fast Five
total: 23

Tres metros sobre el cielo
total: 15
Breakfast at Tiffany's Soundtrack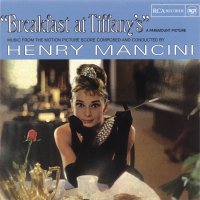 Best review is still not choosen. Your's can become the BEST! Be the first... Write review
Tracklist. Online preview
#
Henry Mancini — Breakfast at Tiffany's
Length
1.
Moon River
Henry Mancini
2:42
2.
Something For Cat
Henry Mancini
3:13
3.
Sally's Tomato
Henry Mancini
3:10
4.
Mr. Yunioshi
Henry Mancini
2:33
5.
The Big Blow Out
Henry Mancini
2:31
6.
Hub Caps And Tail Lights
Henry Mancini
2:33
7.
Breakfast At Tiffany's
Henry Mancini
2:49
8.
Latin Golightly
Henry Mancini
2:59
9.
Holly
Henry Mancini
3:22
10.
Loose Caboose
Henry Mancini
3:13
11.
The Big Heist
Henry Mancini
3:11
12.
Moon River Cha Cha
Henry Mancini
2:39
13.
Wait Until Dark [bonus]
Henry Mancini
2:08
37:03
Plot summary
Won Oscar'1962 in nominations:
— Best Music, Original Song, Henry Mancini (music), Johnny Mercer (lyrics), For the song "Moon River";
— Best Music, Scoring of a Dramatic or Comedy Picture, Henry Mancini.

Struggling writer Paul Varjak moves into a New York apartment building and becomes intrigued by his pretty, quirky neighbor Holly Golightly. Holly's lifestyle confuses and fascinates Paul; in public she flits through parties with a sexy, sophisticated air, but when they're alone she changes into a sweetly vulnerable bundle of neuroses.
Comments